Contact Us
IntelliTeam® FMS Feeder Management System
Simple management for your S&C devices.
As you add to your fleet of distributed intelligent devices, you're outgrowing the tools you use to manage it. Those tools require you to manually manage devices one at a time. The more devices you have, the more time and money you'll spend managing them—and the greater the risk for operational error.
The IntelliTeam FMS Feeder Management System is the efficient, yet simple, solution for managing your entire fleet of S&C devices. It automates systemwide activities—saving you money, improving your reliability, and making your life easier.
Interface
The IntelliTeam FMS Feeder Management System's intuitive, user-friendly interface allows you to see the holistic view of your system, work with groups of devices, and analyze a single device. Here's a peek at what it looks like: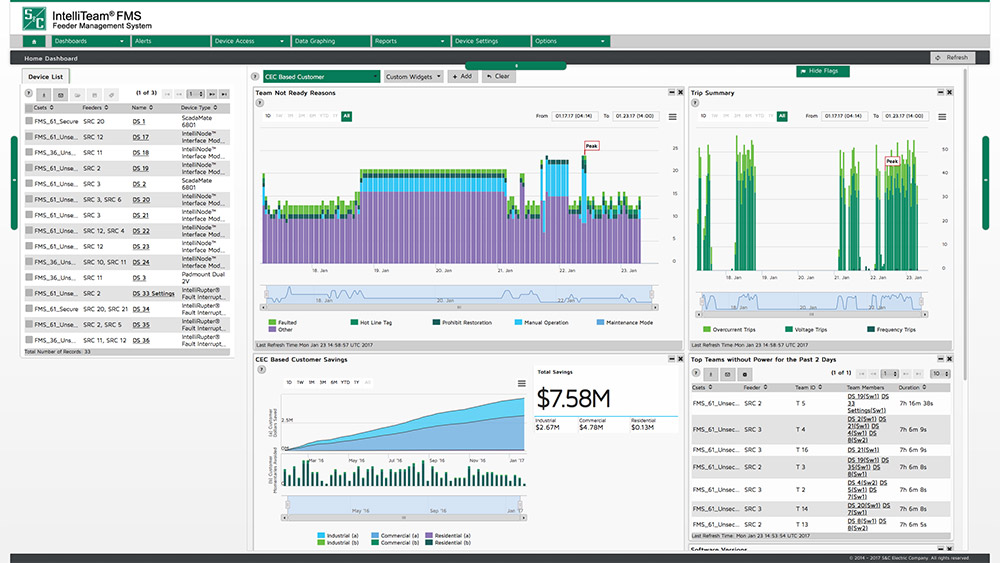 Features

Dashboards
Get the big-picture view of your system to identify trends and improvement opportunities.

Device Details
Analyze information specific to a single device (e.g., diagnostics, settings, and status).

Advanced Device Filtering
Use in-depth filters to work with a selected group of devices.

Device File Retrieval
Remotely download multiple device files (including .event and .wav files).

Reporting
Manually or automatically generate reports and send them to your email.

Data Graphing
Visualize multiple analog and Boolean data points for one or more devices.

Alerts
Easily set and manage notifications about your devices.

Settings Management
Change and log settings for one or more devices.